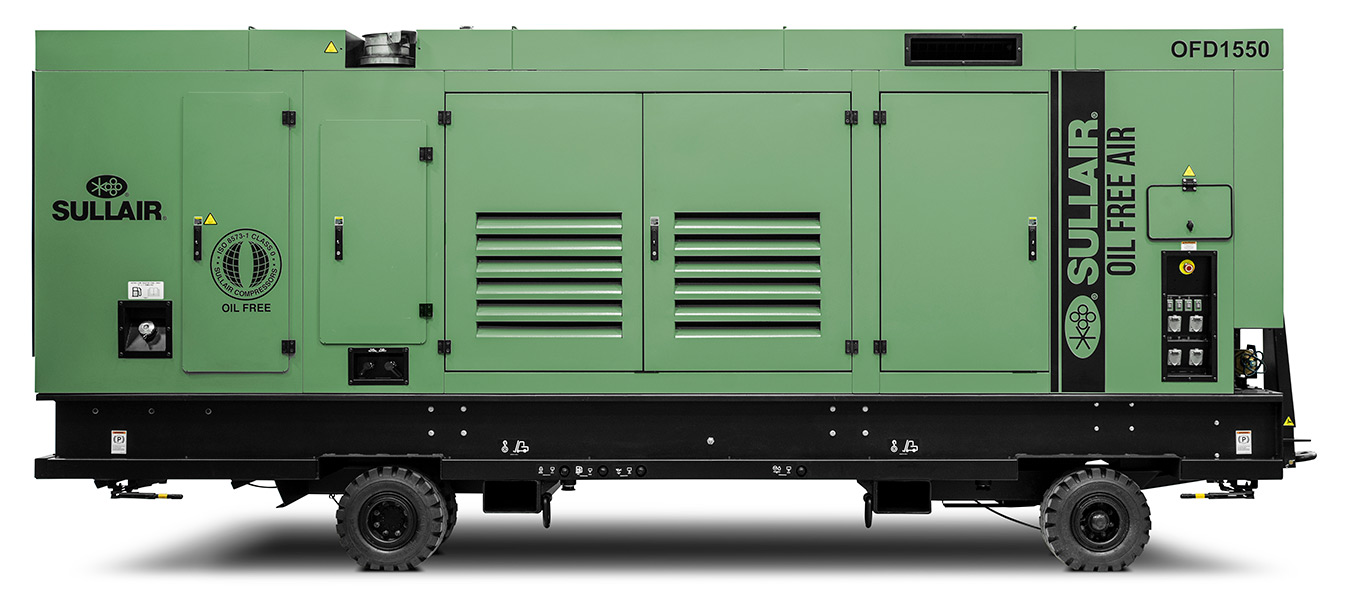 Oil & Gas Engineering magazine has named the Sullair Tier 3 OFD1550 oil free portable air compressor the silver award winner in the Power category for their 2021 Product of the Year awards program.
Launched in January 2021, the OFD1550 is the latest development in the expanding Sullair oil free portfolio. Delivering ISO 8573.1 Class 0 oil free plant or back-up air, the Tier 3 compressor is perfect for users in markets with sensitive compressed air needs including food and beverage, electronics, power plants and more.
"To win a silver award in this competitive field is an achievement," said Jerel Cole, Senior Product Manager at Sullair. "The OFD1550 is an environmentally-friendly and highly versatile machine. It was designed to reduce the cost of ownership and includes many modern features our customers have been asking for. This is a reliable machine for critical oil free compressed air applications."
The OFD1550 was designed with customer feedback front of mind. The unit includes the Sullair AirLinx® remote monitoring and telematics, and a 7" touch screen controller to provide convenient compression and engine operation data and control. It can operate in high altitudes (up to 12,000 ft above sea level) and its large service doors make cooler cleaning and maintenance more convenient. Additional features include an optional Refinery Package including anti-static belt, non-metallic fan and spark arrestor and an optional Cold Weather Package allowing operation at temperatures as low as -20°F (-29°C).
The Sullair OFD1550 includes the renowned two-stage Sullair air end and high efficiency rotors designed specifically for oil free operation. The rotors are coated with an FDA-approved food-grade PTFE to help resist corrosion and extend air end life. The unit provides 1550 cfm of Class 0 oil free air with adjustable pressures up to 150 psi and is powered with Tier 3 diesel engine options by Caterpillar and Perkins.
Oil & Gas Engineering showcased the finalists in the December issue of the magazine and in e-newsletters, as well as on their website.
The Tier 3 OFD1550 is available in select markets. Please contact your authorized Sullair distributor for more details.