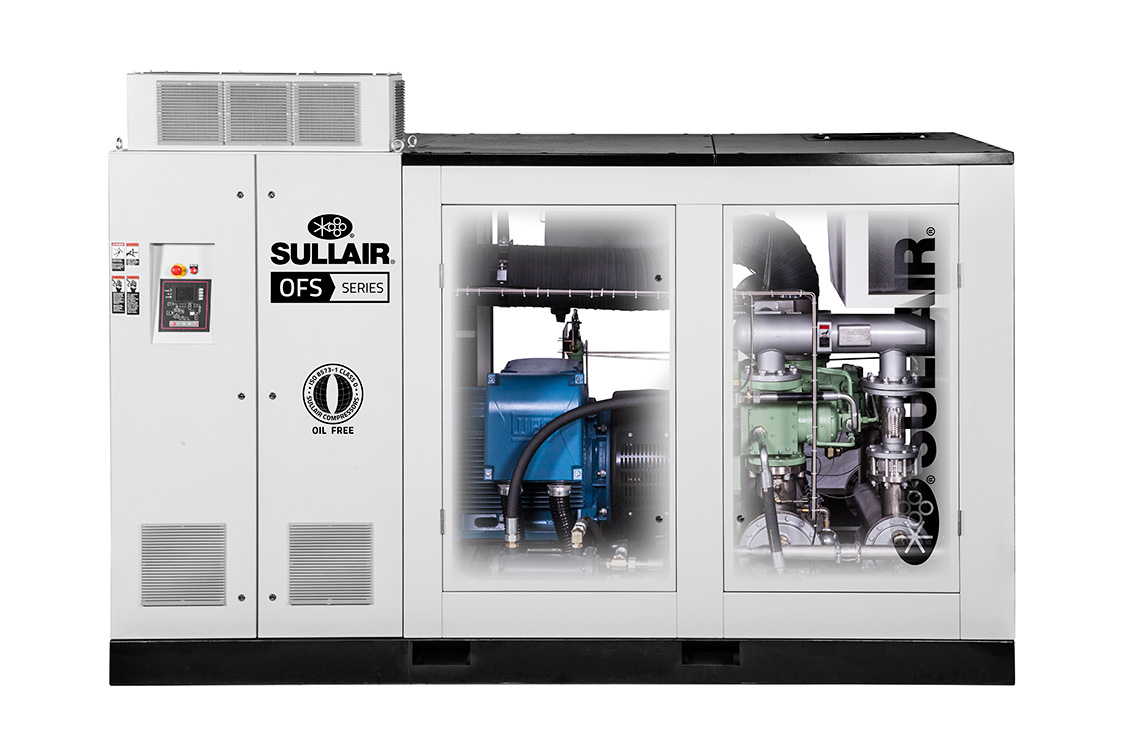 Sullair, an industry leader in innovative compressed air solutions since 1965, will showcase several new products and services at the International Manufacturing Technology Show (IMTS) in Chicago September 12-17, 2016. Highlights at Sullair booth N-7470 will include the following:
• The introduction of the OFS Series, a new line of oil free rotary screw air compressors
• An example air treatment system on display, including refrigerated dryer, filtration and storage
New OFS Series
Expanding the company's oil free portfolio, Sullair will introduce the OFS Series, a new line of oil free rotary screw air compressors. The OFS Series consists of models in two frame sizes, 100-200 hp and 250-350 hp, and features multiple customer-influenced improvements in a smaller footprint. All Sullair OFS Series compressors are ISO 8573-1 Class 0 certified to ensure oil free operation. The air ends feature rotors with a high-efficiency asymmetrical profile that are coated with an FDA-approved food grade PTFE corrosion resistant coating.
Air Treatment Products, Support
Long known for its stationary compressor offerings, Sullair also offers compressed air system users a range of air treatment technologies to ensure clean, dry air, and improve system performance. The company recently strengthened its commitment by adding a Senior Product Management Specialist to lead its efforts in expanding the existing compressed air treatment business and extending and upgrading the current portfolio. Sullair offers users refrigerated and desiccant dryers, filters, oil mist eliminators, oil/water separators, and drains to accompany its stationary equipment.
At IMTS 2016, visit Sullair booth N-7470 to learn more about the latest innovations from the company. To learn more about Sullair and its products, visit www.Sullair.com.