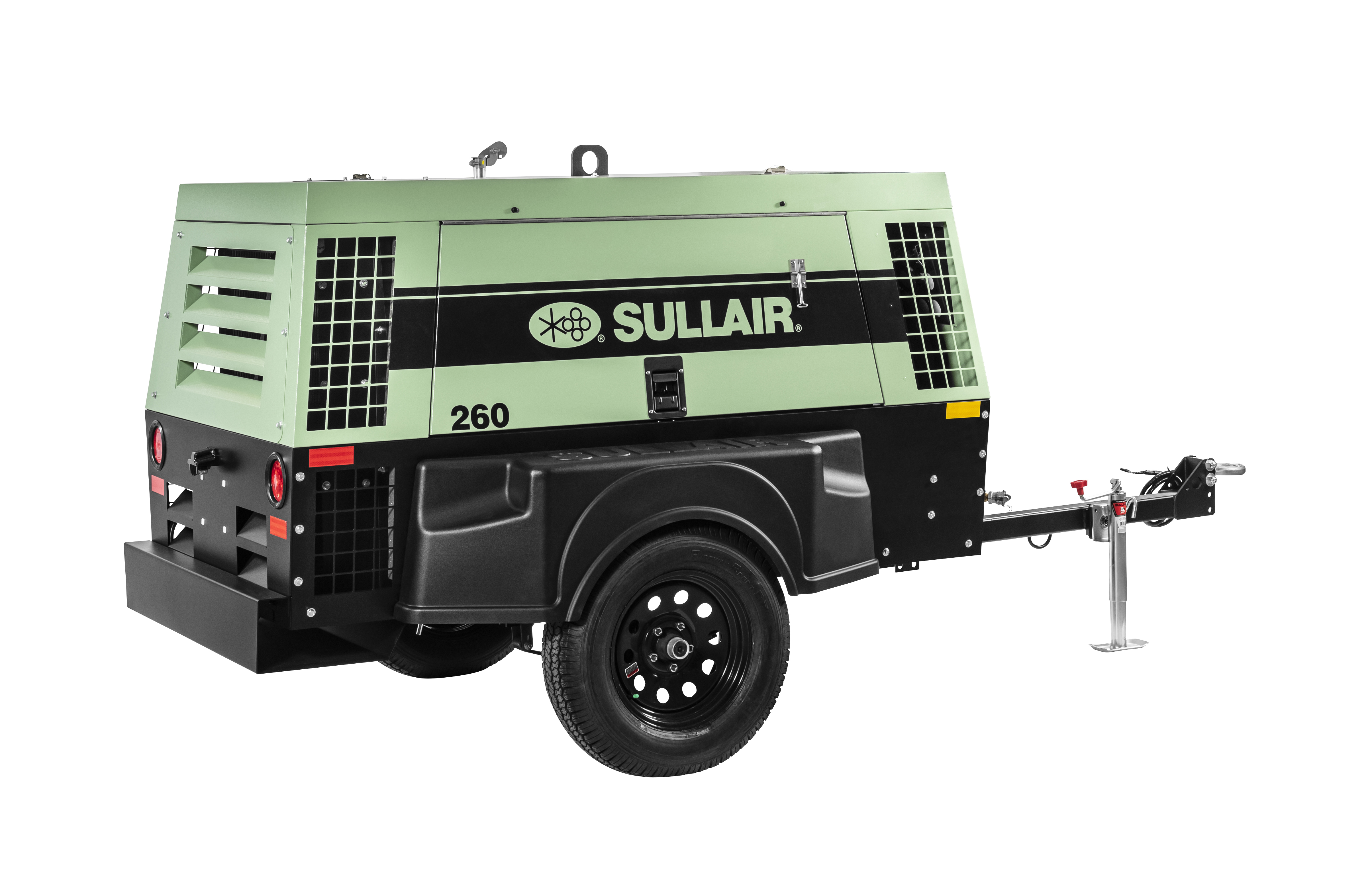 Sullair, an industry leader in innovative compressed air solutions since 1965, has introduced its 260 Series portable lubricated rotary screw air compressors for Tier 3 markets. The 260 Series diesel compressors are powered by a turbo-charged Tier 3 emissions compliant Kubota V3307 engine with two pressure options: 7.36 m3/min at 6.9 bar (260 cfm at 100 psig) or 5.66 m3/min at 6.9 or 10.3 bar (200 cfm at 100 or 150 psi).
"Sullair continually works with our customers to determine how we can improve our products and expand our offerings to help meet their most critical needs," said Jerel Cole, Senior Product Manager – Rental & Infrastructure at Sullair. "The 260 Series is an example of our direct response to customer demand for durable compressors used in rugged applications. Initially these products are being launched with Tier 3 engines for use in challenging environments such as mining in South America and gas and oil work in the Middle East."
The 260 Series diesel portable air compressors offer the legendary Sullair air end and a 133-liter (35-gallon) fuel tank for more than nine hours of uninterrupted operation. Its turbo-charged engine can handle high altitudes up to 3,657 meters (12,000 feet) and its galvannealed steel package will help withstand rugged terrains. New Sullair decal styling signifies the continued commitment to reliability, durability, and performance. In addition, new river texture canopy paint provides improved rust and corrosion resistance. The 260 Series is ideal for applications including general construction and mining.
With an easy-to-use control panel, operator training is reduced and users are provided an interface to easily access gauges and controls to monitor compressor performance. The 260 Series was also designed with serviceability in mind. Padlockable doors with slam latches allow for easy access to service and maintenance components and an extra-large toolbox ensures easy transport of multiple air tools. With a compact design, the compressors can be easily maneuvered and towed to and from the jobsite.
With an amenity-rich package, the 260 Series provides the proven reliability and durability customers have come to expect from Sullair.